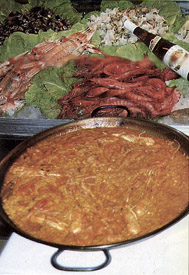 Santa Pola is known internationally for its traditional and varied cuisine, based on sea food. The wide variety of shellfish are used in many exquisite dishes, noteworthy among which are 'quisquilla hervida' (boiled shrimp), 'cigalas' (crayfish) and 'gamba roja a la plancha' (red prawns cooked on the hot plate).
Rice is the basis of the largest chapter in the cookery book of this region. 'Arroz a banda' (a kind of fish stew with rice) continues to occupy one of the top positions in the list of favourite rice dishes, although there are numerous others to satisfy any palate. Some of the better known are 'paella de marisco' (shellfish paella), 'arroz negro' (rice cooked with squid complete with its ink), 'arroz y costra' (a meat-based paella topped with a baked egg crust) and 'arros i gatet' (a rice dish with carp).
Other well known dishes are 'gazpachos de mero' (a stew made with the grouper fish), 'blanquillo de rape' (monkfish in a white sauce), 'guisado de sepia' (cuttle-fish stew) and, without doubt, the principal fish speciality is the "caldero" a fish and vegetable stew. Amongst the fish-only dishes the most popular are 'dorada' (gilt head), 'lubina' (sea bass) and 'lechola' (whiting) plus a whole range of fried fish.
Starters include 'salazones de pescado' (dried salted fish) such as 'la hueva' (fish roe), 'mojama' (salted tuna), 'empanadas de mero' (fish pasties) and 'coca de sardinas' (a kind of open sardine tart).
For afters those with a sweet tooth can enjoy many home-made cakes and pastries, 'hojaldres de cabello de angel' (literally puff pastry with angel hair), 'coca boba' (crazy tart), 'rollitos' (little sweet rolls) and all kinds of ice-cream particularly 'mantecado helado' (creamy ice-cream) usually home made, 'granizados' (drinks frozen to a 'slush') and the essential "blanco y negro" made with iced coffee and full cream ice-cream.
The quality of all these products and the skilful hands of the chefs ensure that the gastronomy of Santa Pola is an unmissable treat for visitors.